WE CAN SEND THE 20kg BAGS VIA COURIER CARTONS TO METRO POSTCODES WITH SECURE DROPOFF POINTS ONLY. Shipping cost for each 20kg bag carton is $25 and is added automatically.

CASH PICKUP is available from our huge new Carrum Downs Warehouse by appointment.
Cash Pickup Special: 5 Bags for $35ea. 1 Bag $40.
We offer 4 types of locally made Australian pure chemical free natural LUMP CHARCOALS for Home & Restaurants. Use in Weber, Kamado, Primo, Bullet, Offset Smoker. The ashless Red Gum would suit the new Heston's Everdure Fusion BBQ as no mess to clean up.
Charcoal lighting Tip: Light corner of pile with our $20 Butane Blow Torch for 1 min, then fan it with Heat Gun Paint Stripper for 2 mins. Ready to cook on in 3 mins! Place 2 Smoker Wood Chunks to smolder on top and you're Smokinnng..
Heat Beads need to get white hot and ash over till they are safe to cook on... how do you then add more later? Lump Charcoal is pure and can be safely used for top ups! Briquettes and Beads are usually formed from low quality Brown Coal Char, Corn Starch binder and Potassium Nitrate accelerant...nasty.
Check out the fb Posts about our new near ashless MURRUMBIDGEE RIVER RED GUM LUMP CHARCOAL:

HEAT LEVELS:
HOT: MALLEE STICK & BRANCH (Used by Charcoal Chicken shops) Low heat smaller pieces for LownSlow or small BBQ's.
Chicken Shops pack it down with the back of a shovel to slow cook their chooks. Good for shallow BBQ's where meat is close to heat. Mallee Charcoals spark entertainingly a bit at first, due to fine Mallee sand blown into the tree wood. For extra flavour, place some of our Mallee Root Wood Smoking Chunks to smolder on the charcoal.
HOTTER: MALLEE ROOT - Hot standard all round charcoal. Our new manufacturer makes lumps more uniform in size, no crumbs or stones. Good for LownSlow.

EVEN HOTTER: MURRUMBIDGEE RIVER RED GUM - Made from dense Murrumbidgee River Red Gum Trees, it leaves almost no ash! Large bulky bag. It burns hot and needs the small Weber air vent at least 3/4 open as it needs to breathe. Not for LownSlow with minimal airflow.
Tested in Primo ceramic grill (like kamado) got to 340C/640F in 30 mins. Gets a Kamado up to 850F. It gets hot very quick, and smells great. Finally there is a hot clean pure Lump Charcoal that leaves no mess in your BBQ!
Red Gum smoke flavour is very similar to Hickory, imagine if you could buy Hickory Charcoal! You can't, but we can provide you with Red Gum Charcoal that imparts tasty Red Gum flavour to meats.
Customer feedback on fb from Simon:- Fired up my Primo oval Jnr today with Red gum charcoal. WOW ! what a difference. I thought the Primo charcoal was good but have to say this is better. The 20 Kg bag is massive and will give many cook ups. It lights fully within 30 minutes and has NO acrid smoke at all. Very easy to control temperature and hardly any ash at all. FANTASTIC product
HOTTEST: GIDGEE - Gets a Kamado up to 900F. Best for LownSlow.
N.B. For LownSlow, regulate heat by air vent control except for Red Gum Charcoal, or use less charcoal and add more for more heat later. It burns hot & long and has slightly better flavour than Mallee, but produces talc like ash that can blow around unless within an enclosed BBQ. For long slow cooking, use Snake method to deal with ash buildup - Refer SMOKING TECHNIQUES on WEBSITE HOME PAGE. Kamado BBQ's get 900f from Gidgee!
Gidgee Testimonial by Michael M:- "Not only did it hold 250F for 14 hours to do a pork shoulder, it still had enough oomph after opening the vents, to clean out my Primo XL. Don't know how hot it got – the thermometer peaked ! Nevertheless, my deflector plates and firebox look brand new again !"
1kg RED GUM Charcoal Test:

10mins lit
: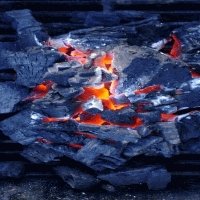 45mins lit
: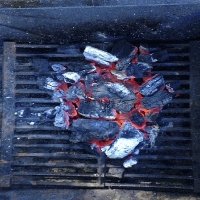 1.5hrs lit: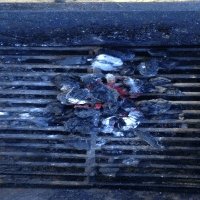 The new Murrumbidgee River Red Gum Charcoal is proving to be a big hit. It gets hot as Mallee Root but leaves no ash mess. The Bushy manufacturer says that his Charcoal is the best because he is a perfectionist, he only selects solid logs and trunks, and then 'Cooks' the wood in his large kiln until it gets to the exact point where the wood is Cooked, but the power and gases are still trapped within. I told him that other Red Gum Charcoal that I have used didn't get hot, he said most manufacturers over Cook or Burn the wood so there's no power left in it to produce heat.